Cobham River Lodge
Fishing Report – June 17, 2019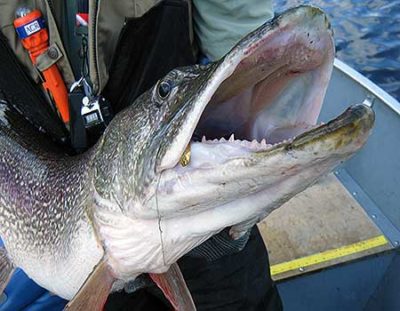 It's been a great week here at Cobham River Lodge!
The weather was enjoyed by all being in the 21-23C (70 – 75F) for much of the week. With sunny skies and only a light rain during the overnight.
After an early arrival, everyone were pretty anxious to get going, heading out on the water post haste. The weather was great and so was the fishing. It didn't seem to matter where our anglers ventured, northern pike were in abundance everywhere with boats enjoying a pretty epic afternoon.
Northern Pike fishing was quite the game, with bright skies having guests change from the bay shallows in the beginning of their stay to the outer bay edges by the end. Once the patterns were identified, anglers were rewarded handsomely with numerous guests releasing 101-119cm (40-47 inch) northern pike throughout the trip.
Di Zook and her fishing partner Jim Foster sure knocked it out of the park releasing numerous 101-116cm (40-44 inch) northern pike to end their trip on a high – nice job you two!
Yesterday we had some more old friends join us again for their annual trip. It's always so nice to see all our returning guests, and how their time spent with us fosters so many new friendships and connections both within existing groups and also with our new guests. We're very lucky that Cobham River creates that family feeling for all of us!
We're looking forward to seeing what the rest of the trip brings!
Have a great week everyone – tight lines!