Manitoba Fly in Outpost  Where Solitude Awaits You
Our Canadian outpost is where you come together to enjoy life and each other at your own pace, and in your own way…
Hidden Lake provides the finest 4 Star Manitoba fly in outpost fishing Canada has to offer. Your cabin is 24×41 feet with plenty of room for your group.
Our Manitoba fly in outpost cabin features a large, fully equipped kitchen which includes a full size, 4 burner gas cooktop with oven/broiler, a full size refrigerator/freezer, an 8 cu. ft. chest freezer, cookware, plates/bowls, cooking/eating utensils, drinking glasses/mugs, etc. For your outdoor cooking needs, there is a gas grill and a fish cooker.
For your Manitoba fly in outpost comfort, the cabin is furnished with native pine dining tables and chairs plus a large living room with a sofa and a wood stove for your heating needs. The cabin also has a hot and cold indoor shower as well as two bedrooms that contain handmade native pine bunk beds and mattresses.
Our Manitoba fly in outpost cabin is equipped with 110v AC lighting throughout the cabin and a gravity feed water system for your water needs. Attached to your spacious cabin is a 10×24 foot fully screened porch, and as a final touch we have installed satellite internet service. This gives you a sense of security with the ability to call for a plane in case of an emergency as well as keeping up with the happenings of family back home.
Your Manitoba fly in outpost is the only cabin on a 6,400 acre lake, and your group is the only group on the lake. That insures your privacy and trophy fishing opportunities.
The Manitoba fly in outpost is equipped with S-14′ Lund boats which are the same width as 16′ Lunds and powered by 8 HP 4 stroke Yamaha outboard motors. There are enough boats at the camp to insure you are fishing only two fishermen per boat. This Manitoba fly in outpost also has a 17′ canoe for the many portage trips that are available from Hidden Lake. We furnish mounted cushioned swivel boat seats with backrests, life vests, and landing nets.
A Typical Day at Hidden Lake Outpost
There is no set schedule.
It's your lake, it's your vacation, it's your schedule.
Kick back and relax.  Time to go fishing.
Cobham's remote Manitoba fly in outpost camps located in the Canadian wilderness offer truly great fishing vacation experience with our Manitoba fly in outpost fishing cabins
Remote Manitoba Fly in Outpost Fishing on a Private Lake
Our Manitoba fly-in outpost on Hidden Lake offers you a trophy fishing experience in the secluded wilderness of Manitoba Canada on your very own private lake. Here you can chase trophy Northern Pike and trophy Walleye all week long without any interruptions and not another fishing boat on the lake other than your groups. You will feel "Hidden" from the rest of the world as you get to concentrate on the important stuff, relaxation and fishing.
Our Manitoba fly in outpost fishing can best be described with one word – action. It is common for two people fishing at our Manitoba fly in Outpost to catch and release over 100 fish a day, with the record being 223 Walleye and Northern Pike caught in a single day. Pictures of your Canada fishing adventure will surely include large stringers of Canadian Walleye. Trophy Northern Pike are also no stranger to the many cabbage weed filled bays and inlets reserved for Manitoba Canada's lakes and rivers.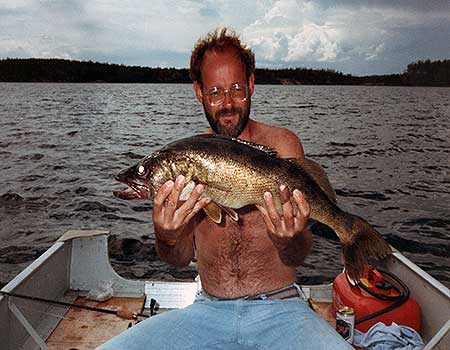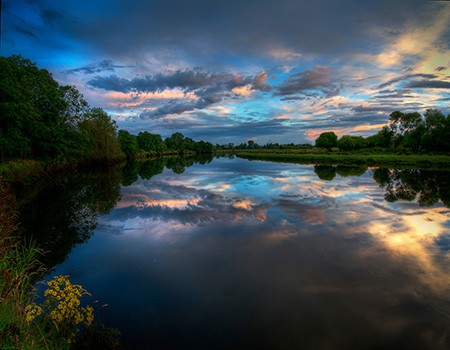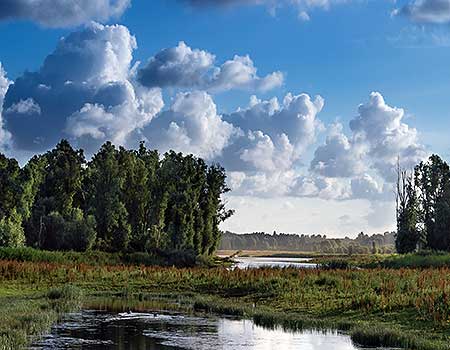 Our remote Manitoba fly in outpost cabin is situated on a 6,400 acre lake, with a chain of islands down the center. Hidden Lake's shape and islands make fishing on windy days easy to deal with because there are always fishing spots or shorelines out of the wind. While fishing Hidden Lake you will also have access to three other lakes – Elliot Lake, Thunder Lake and Blue Walleye Lake. Each lake offers premier trophy fishing with unique fishing opportunities within each lake.
Thunder Lake is a 25 minute ride up a channel north of Hidden Lake Outpost. Thunder Lake's habitat is picture perfect for trophy Northern Pike because of its wrap around bays and cabbage weed filled inlets. When you come out of the inlet, one look at the lake and you will know you have found a day full of fishing spots.
From Thunder Lake you will have access to Blue Walleye Lake. While Blue Walleye Lake is only accessible via canoe, it offers you a chance to fish for the first known Walleye species, the "Blue Pike". While you are required to release all Blue Pike that you catch, it is fun to see just how different the Blue Pike species are from the Walleye we all fish for today.
The last fishing area is Elliot Lake. Elliot Lake has proven to be a trophy Northern Pike haven, which has produced many of the trophy Northern Pike we see at Hidden Lake. Elliot Lake is a 32,000 acre lake with an average depth of 8 feet. The 50+ inch Northern Pike can be found in the numerous cabbage weed beds throughout the lake.
These Pike havens can be found virtually everywhere, including the middle of the lake. The trophy Northern Pike using these weed beds as their hunting grounds have produced many 50 inch and larger Pike over the years. Given the abundance of bait fish and weedy bays, you will find plenty of good Walleye fishing spots on Elliot Lake if you need to give your reel's drag a rest from the trophy Northern Pike.