Fly in Manitoba Fishing Lodge Cobham River Lodge
Manitoba Canada's fly in fishing destination for Northern Pike Fishing
Why Choose Cobham River?
Our fly in Manitoba fishing lodge is the place where you cast your line into the weed beds, chase a grand slam and hook a 30-pound northern pike. It's where you fight the line for hours a day, and go home with stories they won't believe.
Cobham River Lodge is isolated in Manitoba's Canadian wilderness where you and your group have an unmatched fishing opportunity to fish where no other fisherman has fished before. The result, the fishing trip of a lifetime with pictures to prove it!  From American Plan Packages to Deluxe Fly-In Outpost Packages, we can accommodate any groups needs.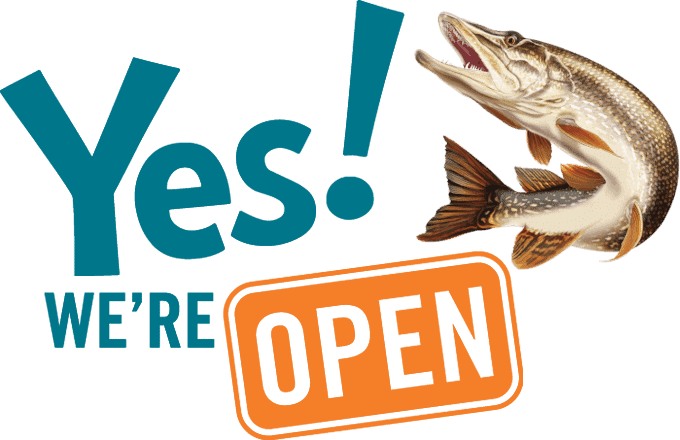 Join our waiting list for 2023!
Can't make it happen in 2022, join our waiting list and get the date and trophy you're after in 2023.
When you compare other fly in fishing lodges you'll be hard pressed to hear them mention a waiting list or that they are sold out. The reason is simple, we have the best trophy Northern Pike fishing in Manitoba. While other Manitoba fishing lodges have up to 18 boats firing off the dock each morning, we limit our 76,000 acres to 5 or 6 boats. The result is the best fly in Northern Pike fishing in Manitoba, but only for the select few. After 45 years in business this has resulted in "Sold out" and "Join our waiting list" being common place.
Get on the list and be one of the boats going out in 2023. We'd love to meet you and your group.
The Biggest Fish Story of Your Life Begins Here
Boasting an expansive Canadian shoreline, we've made our name in northern pike fishing, attracting anglers the around the globe.  Add the numerous weed beds, creeks, and hundreds of miles of shoreline  Cobham River Lodge is the ultimate Manitoba fishing lodge for world class Northern Pike fishing.
Cobham River was built around conservation, our fly in fishing program is proud to have released all trophy fish for over 35 years. The result, 45 to 50+ inch Northern Pike being released every season.
Roughly only 150 people get the chance to fish our Manitoba fishing lodge each year.  Are you one of them?
What makes Cobham different?
It's About the Numbers
Whether you're trying to break our 41 lb. Northern Pike record, or catch your daily walleye for shore lunch – Cobham River's abundant calm waters, scenic shoreline, outstanding staff, and 45 years of experience are sure to make for a memorable fishing vacation!
Our Manitoba fishing lodge you don't have to spend hours getting to the fish. In fact, a number of the best fishing locations are within sight of the Lodge. In 2018 we had a 48″ northern pike caught within 300 yards of our dock.  Our northern pike are aggressive and anglers have landed thousands of giant northern pike in the 38″- 50″ range. The Cobham River northern pike record currently stands at 53.54 inches (41 lbs).