13 Best Lures for Pike
Heading on a Canada fishing trip and trying to figure out the best pike lures to take along? With so many different choices and colors of pike lures on the market today, it is easy see how you can end up purchasing pike lures that will never be used.
What is the best fishing lures for pike? Is it a spoon? buzz bait? spinner? Well that's what we are here to answer. Cobham River Lodge has released 49 northern pike over 50 inches (127 cm) over the past 40 years and thousands of northern pike over 41 inches (104 cm). We know pike fishing and what pike lures work best for fishing Canada waters.
Spoon
Spoons are a staple for northern pike fishermen tacklebox. The wobble of the pike spoons are great for catching the attention of northern pike as the spoon passes by. The simplicity, toughness, and effectiveness of a spoon is what makes them a long time favorite among pike fishermen.
Pike fishing tip: For additional pike appeal, a single tail mister twister (yellow or white) added the hook give the Johnson silver minnow that extra kick.
What makes the simple design of the Johnson silver minnow one of the best pike lures that every fishermen should have in their tackle box?  They're weedless.  Big pike love weedy bays and unlike spoons with large treble hooks that keep you casting the edges trying to entice the pike out of the weeds, the Johnson silver minnows allows you to place the lure on top of the fish, deep in the weeds. For almost 100 years the 1-1/8 oz. 3 3/4″ Johnson silver minnow has wobbled back and forth weed free.
Best pike lure colors: Silver or Red/White (sunny days), Gold (cloudy days).
The 1 oz. 3-5/8″ Dardevle spoon has been a staple for pike fishermen. The classic red and white or yellow five of diamonds color scheme are proven to be the best pike color combination for Canada pike fishing.
Best pike lure colors: Red/White, Yellow/Red.
The doctor spoon has been around for over 75 years and has proven to be a big pike, big catch lure. On sunny days the classic 1-3/16 oz. 4 1/2″ nickel doctor spoon reflects the sun attracting big pike to your lure.
Best pike lure colors: Silver/Blue (sunny days), Copper (cloudy days).
Spinner
Spinner baits are a great choice for early spring weed filled bays. As the spinner skims across the top of the weeds, it simulates a distressed fish near the surface attracting northern pike. While retrieving the spinner bait, you should reel just slow enough to not break the water surface. Spinner baits have a teardrop blade that help conceal the treble hook from getting snagged on the weeds.
Pike fishing tip: On a sunny day use a black spinner, you maybe surprised on how well it produces.
The #5 7/16 oz. Blue Fox bullet spinner offers a larger hook for those powerful pike jaws, the #5 blade reflects more light while the center bell provides a low frequency noise.
Best pike lure colors: Silver (sunny days), Gold or Chartreuse (cloudy days).
Runner up: Mepps
Mepps #5 1/2 oz. spinner is the go to spinner for pike fishermen. The Aglia undressed spinner has caught more northern pike than any other spinner used on the Cobham River. The Mepps Aglia runs about 2 foot depth with a moderate retrieve.
Best pike lure colors: Silver or Brown Trout (sunny days), Gold (cloudy days).
Soft Plastic Swimbait
What makes for a good swimbait? Bait action and appearance. A swimbait give you the best of both, produces a swim motion of a live pike and a realistic life like look.
The 5″ 7/16 oz. storm Wildeye is so realistic and weighted perfectly to give life like swimming. The tail wagging gives the realistic look that entices nearby northern pike. Only downside is its a soft plastic bait. With the sharp teeth of a northern pike you will be luck if the bait last an entire day.
Pike fishing tip: While the storm swimbait is a winner, plan on going through a lure a day due to the soft body and tail.
Mid to late season pike head to cooler depths along the weed lines and rock structures.  The best way to get to these depths is a 4″ double tail twister tail on a 1/2 oz. jig head.  Not only is the twister tail a killer walleye bait, but it is also one of the best pike lures in warmer waters.  The double tail twister allows for a quick decent to the bottom, which follows with a lift-fall retrieval.
Best pike lure colors: Yellow (sunny days), White (cloudy days).
Jerkbait
The stop and go action of a jerkbait along with the dive action of a weighted jerkbait, gives this pike lure the look of a distress fish.
Top Choice: Suick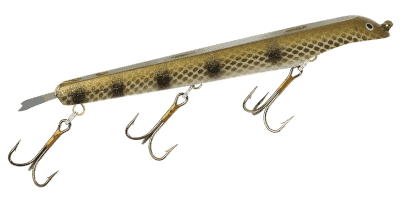 Suick's 7 inch 3/4 oz. thriller is prefect for pike fishing by simulating a wounded fish. The solid wood body makes this one of the more durable pike lures on the list. Because of it size and weight, it will take some practice to achieve the perfect retrieve rate. But once master, the suick will be one of your go to pike lures.
Best pike lure colors: Perch (sunny days), Walleye (cloudy days).
The 4 3/4 inch 7/16 oz. Husky Jerk has put a lot of big pike in the boat over the years. The Husky Jerk is balanced to run straight and true at any speed, while the buoyancy design allows the lure to suspend in place upon stop forward motion. The rattle chamber is amplified through the water catching the attention of a lurking pike. This lure is prefect for working rocky drop offs to deeper water.
Best pike lure colors: Clown or Sliver Blue (sunny days), Baby Bass or Tennessee Shad (cloudy days).
Crankbait
Crankbaits come in may styles from lipless to deep divers. Having a great depth range is great as the fishing season progresses. The lipless crankbaits are the go to crankbait lure for pike fishing. The lipless is a shallow running lure that can get to depths of 12 feet with a quick retrieval. A slow retrieval will keep the between 2 to 3 feet.
The 3 inch 1/2 oz. Rat-L-Trap gets a northern pike's attention. Whether its the loud vibrations that gets the pikes attention or the shimmer of the lure that causes flashes of light from the sun, the Rat-L-Trap is a prefect crankbait for pike fishing. It's loud, it's shinny, it attracts nearby pike. What more could you ask.
Best pike lure colors: Silver (sunny days), Blue/Gold (cloudy days).
The 4 inch 3 5/8 oz. Cisco Kid Topper 700 series is a prefect surface pike lure. The propeller blades on the nose and tail creates a vibration along with the stainless steel body creating a life like wake, this lure attracts a pike's attention.
Best pike lure colors: Silver/Red Head (sunny days), Yellow (cloudy days).
Buzzbait
Nothing is more exciting then a big northern pike breaking the surface of the water. What better way then enticing the pike with a buzz bait. With a buzz bait you get the easy of fishing in covered, weedy, or open water along with a combination of sound and flash that draws explosive pike strikes.
Pike fishing tip: On a sunny day use a black skirt buzzbait with a shinny blade.
Four blade 1/2 oz. D&M slow roller buzzbait gives you the slowest retrieval of any buzzbait on the market. The four blade gives a soft tone while keeping the lure above the weed bed. The ability of slower retrieve along with a softer underwater tone gives you the injured fish action northern pike prey upon.
Best pike lure colors: Red/Black or White (sunny days), Chartreuse/Blue (cloudy days).
The 1/2 oz. twin blade BOOYAH Pikee lure can stand up to the powerful pike jaws filled with teeth. Because the BOOTAH is mostly weedless, its flashy blades and bright colors will soon become your go to lure for weedy surface fishing.
Best pike lure colors: Midnight or Sunfish (sunny days), Chartreuse (cloudy days).