Cobham River Lodge
Fishing Report – July 14, 2019
Well, here we are at the middle of July… where has the season gone? Luckily, we have a couple more trips to get everyone's final fishin' fix in before we leave Cobham River for 2019 and begin preparations for 2020!
2019 has been a great season thus far and continues to surprise and impress. While pike are not in the plethora like they were a few weeks ago they are still making reels scream and there are PLENTY of fish to keep everyone happy and busy, not to mention some real late season bruisers lurking around in in the bays. The inner lakes and Cobham East have produced some epic non-stop bites this week with pike to 116cm (46 inches) being landed. The weather is also allowing us to get into Elliot Lake for pike have been productive with many fish in the 96cm (38 inch) range being encountered along with good numbers in the 109cm (43 inch) range too.
Walleye are schooling in large numbers in many areas of our regular fishing spots and although they are still strongest in the river areas, they've made their way into the upper inner lakes providing good action in between pike bites. In saying that, most anglers are reporting large concentrations of walleye in their usual northern haunts from Cobham West channel and West Islands through to Cobham River East 2nd narrows.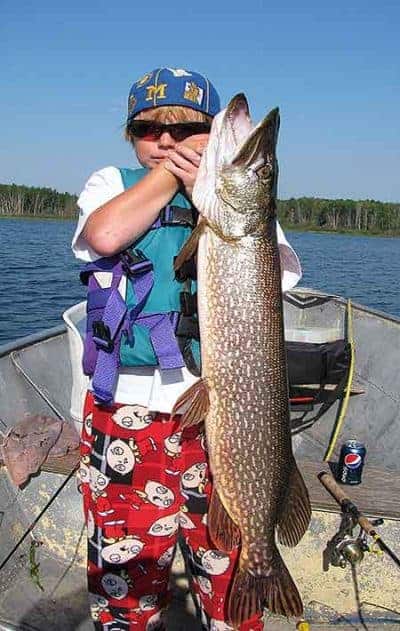 If you're looking for a great family adventure or a father/son experience, Cobham River should be at the top of your list. With a 50% discount for children, a trip with loved ones creates memories and stories that will last a lifetime and it's amazing to watch our guests, young and old, come off the water with big smiles.
So many fish, so little time…. Keep those hooks sharp!!